So, you've read about the four reasons why non-profit organizations should switch to Cloud FP&A and are now wondering what your options are in terms of Cloud FP&A platforms. Most of the information available on Cloud FP&A platforms caters to private sector organizations that have different needs than their non-profit peers. This might lead non-profit CFOs to think that FP&A is meant solely for the private sector, which could not be farther from the truth.
Although Cloud FP&A is a relatively new industry, there are many great platforms currently available that can meet the diverse requirements of non-profit organizations. The individual setup of each system may be different, but each platform offers the same thing to its users: faster financial processes and easier insights for finance teams.
Here are the top 3 FP&A platforms for non-profit organizations:
This FP&A platform integrates with your existing financial process on Excel and features the full stack of FP&A capabilities. Vena is best suited for companies who wish to remain on Excel for its familiarity while expanding on its FP&A abilities. This could be a benefit to non-profit organizations as the learning curve for switching to Vena will be smaller than with solutions that are more stand-alone.
Vena can upgrade the performance of the finance team and put it in the driver's seat for the entire organization and can reconcile accounts, provision for taxes, and more.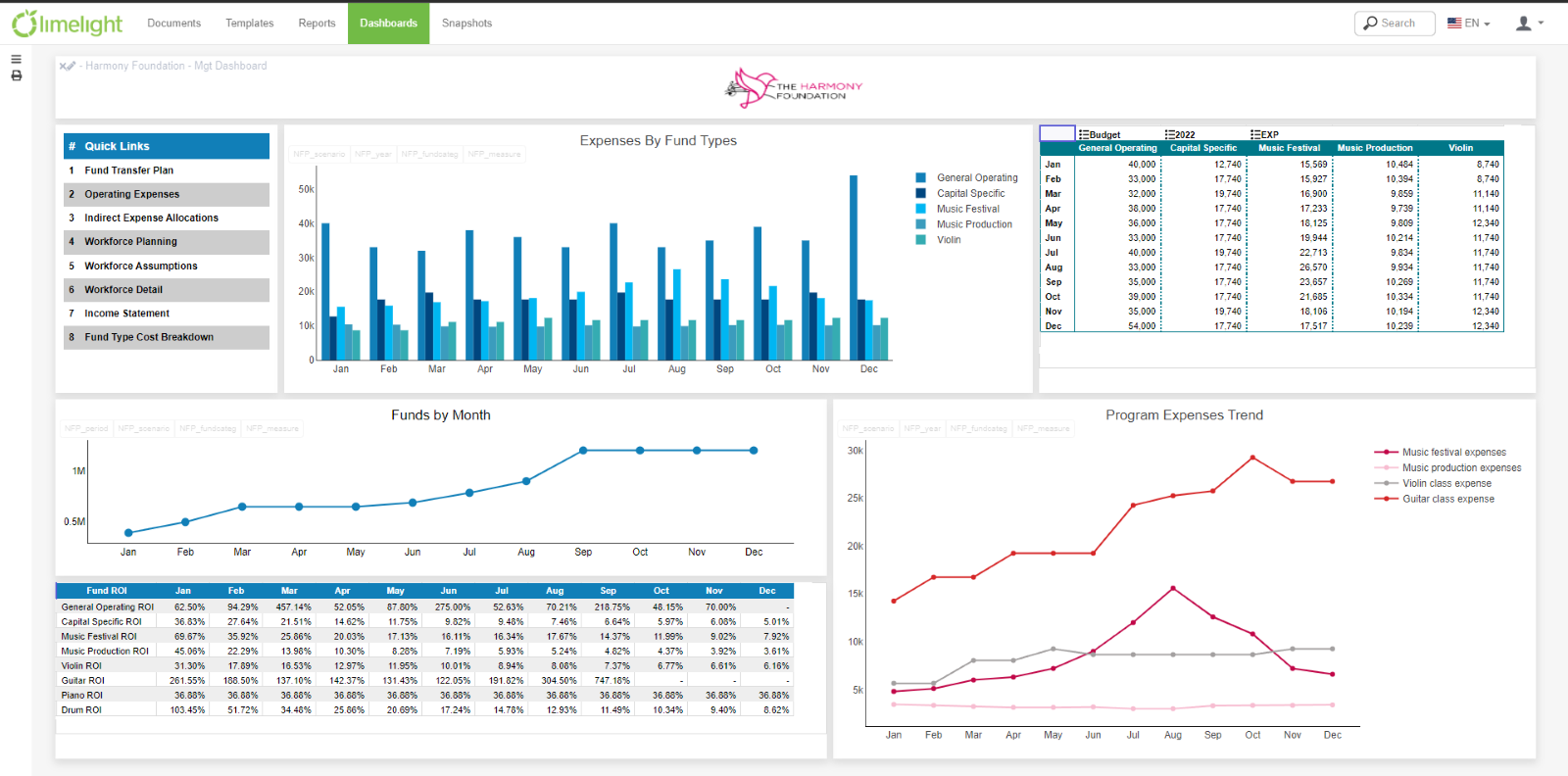 Connecting directly with a large variety of ERP software and other source systems, Limelight handles the heavy lifting of the financial process such as collation and allows finance teams to spend more time generating valuable insights out of their data. Limelight has an interface that should be familiar to Excel users while adding cloud capabilities that go beyond what is offered by static spreadsheet platforms.
For non-profit organizations, the Limelight experience looks like spending more time on the mission and less time on administration. If you're worried about fund tracking and program planning, Limelight has you covered and can track funding as well as keep your budgets and actuals in the same location. Beyond the core financial aspects of FP&A, Limelight also offers workforce planning capabilities.
Adaptive Insights was one of the early innovators of the SaaS method and started operations in 2003. The company was bought by Workday in 2018 for roughly $1.5 billion. Adaptive Planning offers finance teams unified planning, reporting, and analysis. Adaptive dashboards are clean and easy to understand and grasp for finance users. The main feature Adaptive also has a special capacity for workforce planning.
Adaptive generally works with midsize to large enterprises and can provide full-scale expansive FP&A to its users. Adaptive offers users a wide array of resources to get over the learning curve of its immersive implementation through its experience and partnerships with other organizations.
Conclusion:
Seeing as this is Limelight, it would be strange for us to not recommend Limelight as the best Cloud FP&A platform for the non-profit sector. Limelight has experience working with non-profit organizations and has the proven capacity to cover two of their greatest needs, namely, tracking funds and grants as well as the full spectrum of FP&A processes from budgeting to forecasting to planning.