Understanding the Qualities of the Best FP&A Software Available on the Market
The best FP&A software is designed to reduce inefficiencies in your financial reporting and provide more comprehensive insights, saving time and money. Many are able to find hundreds of thousands in uncovered costs when using the top FP&A software, enabling them to control these costs, eliminate redundancies, identify sources of waste, etc. Almost all business owners are able to save thousands of hours with streamlined software.
And due to a wave of recent unexpected events, forecasting (and what-if planning) only continues to grow in demand as a major part of FP&A.
With the right FP&A platform, your real-time financial data can be leveraged to more quickly and more comprehensively:
Forecast

Report

Analyze

Plan
With the right financial FP&A platform, in other words, your business can be more productive and efficient.
To that end, let's dive deeper into what separates the best FP&A software from the pack, the ways it can help your business thrive, and identify the leading FP&A software solution providers.
But before we start, let's cover the basics: what is FP&A software?
What Is Financial Planning and Analysis?
When your business engages in budgeting, forecasting, and planning, it's engaging in financial planning and analysis. This analysis can then be leveraged to plan and forecast future goals/targets, give insight into your budget, and otherwise help your business be maximally efficient when allocating resources and planning for contingencies.
What Is FP&A Software
As your business grows, it's only natural that the amount of relevant financial data grows with it.
For many mid-size and larger businesses, this can translate into excel sheets thousands of rows deep that can take hundreds or even thousands of hours for your financial teams to analyze and turn into actionable reports.
But with the best financial planning and analysis software you can reduce that time drain significantly by intuitively consolidating all relevant information in a single platform and have it updated in real time.
This financial modeling for budgets and forecasts provides the necessary business intelligence that your business needs in order to determine hidden costs you may be missing, reduce budget reviews and the opportunity for human error, and otherwise optimize the crucial financial analysis and planning processes.
In sum, it's next to impossible to make the right business decisions without a comprehensive look into your business's financial health; the top FP&A software makes this process faster, more intuitive, more complete, and mitigates the threat of human error through automation.
To that end, let's examine what separates the best FP&A software from solutions that are merely serviceable.
Some of the qualities of top FP&A software you should be on the lookout for include:
Automation capabilities

Security

Strong UX/UI

Strong tools for workforce planning

Provides industry-specific financial planning and analysis services
What Separates the Best FP&A Software from Competitors
Automation Capabilities - Free Up Your Team by Automating Routine Tasks
Your FP&A team should be able to accomplish more in less time with the right analysis and planning platform supporting them. With FP&A taking more time than ever, that ability to cut down on mundane, repetitive tasks is crucial.
Your FP&A team can save over a thousand hours a year with the right software, enabling them to put more time into planning and other tasks that yield direct value for your business.
While all FP&A software offers some degree of automation, not all are created equal; the more time it can save your team, the more it benefits your business.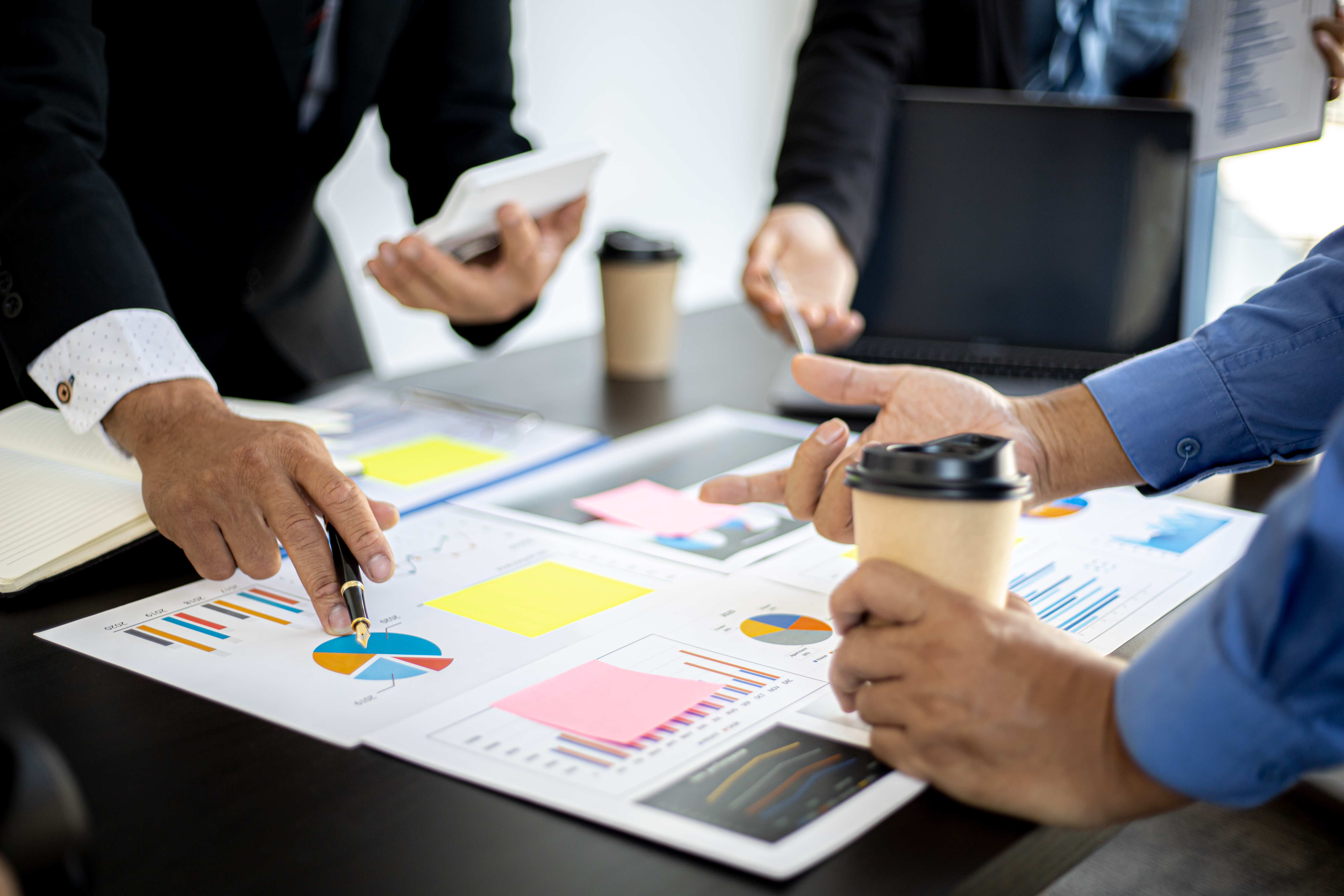 Your software will be able to collect and aggregate data across the business, making it simpler to understand and analyze. This detailed financial analysis will help guide business decisions made by the CEO and other executives. Making projections is also smoother and faster with automation, allowing for more accurate and up-to-date information for financial, sales, and performance forecasts.
Security - Keeping Your Business Critical Data Safe
Your business critical data needs to be protected at all times; businesses stand to lose millions in the event of a data breach. And with cybersecurity breaches becoming more frequent, security is more crucial than ever.
Your FP&A software must be secured with the latest cybersecurity solutions, ensuring that your business information is protected in all eventualities.
Your FP&A software provider should offer SOC-2 compliance and other security designations to demonstrate that their platform can protect your data.
Strong UX/UI - Seamless Onboarding, Rapid Mastery
Ditching endless excel sheets isn't valuable if your FP&A solution is more complicated or just as hard to use.
If the FP&A provider focused on their user experience and user interface (UX/UI) the software should be easy to use, aesthetically pleasing, uncluttered, and intuitive.
---
Learn more about FP&A software:
---
Navigating the platform should be easy enough for newer users without sacrificing depth and functionality. What's more, it should be customizable with filters and clear visibility on critical information only a click or two away.
Strong Tools for Workforce Planning - Uncover Hidden Costs and Automate Expense Management
As your workforce expands, managing each individual worker from a financial perspective also grows in complexity.
As your workforce incorporates full-time and part-time employees, freelancers, different pay scales, etc., you have to manage different benefits, taxation requirements, EI requirements, and more.
In other words, it can get very unwieldy very quickly without the right support.
Workforce planning is much more manageable with the top FP&A software.
Provides Industry-Specific Financial Planning and Analysis Services
No two industries are alike - the same goes for individual businesses. The best FP&A software will tailor their services to directly meet your industry's specific needs in addition to customizing the software to meet your business's specific workflow, processes, size, etc.
One of the best ways to get a maximal yield ROI on your FP&A software, therefore, is to search out the providers whose software offers financial planning and analysis services that are tailored for your industry.
---
You can find industry-specific FP&A software solutions for:
---
The Top Financial Planning and Analysis Consulting and Software Providers
There has been a recent increase in cloud-based FP&A software providers entering the market. But all these providers are not created equal; each offers distinct advantages specializations. Where one excels, the other might have gaps and vice versa.
That said, the following are some of the best available on the market:
Limelight

Cube

Datarails

Anaplan

Workday Adaptive Planning

Planful

Vena

Prophix
The Best FP&A Software Ranked
See below for a comparison of the top FP&A software providers in the industry. Each provider is evaluated based on functionality, service quality, time to implement, price, and integration capabilities. The ranking represents a holistic evaluation of the above criteria.
While every industry and business is different, the ranking is meant to provide a clear picture of the overall best FP&A solutions available on the market today.
1. Limelight Cloud FP&A Software
One of the leaders in cloud FP&A software. With Limelight you can leverage real-time data to inform your business critical decisions, empowering your financial team to more effectively plan your business's future.
Limelight excels at:
Reducing budget cycle times

Ending excel bloat

Enabling effective workforce planning

Enabling What If Scenario planning

Being fully scalable

Uncovering hidden costs

Having a variety of integration opportunities (Sage, Netsuite, other ERPs)

Suitable for a wide variety of industries
How Limelight Cloud FP&A Software Compares to Competitors
Limelight offers industry-leading customer service, often with a more personalized approach compared to rivals. This allows you to leverage the benefits faster so your business's growth won't be constrained by inadequate and/or inefficient financial planning and analysis software.
It is best suited for medium-sized companies with over 200 employees, allowing businesses to make the leap from SME to enterprise-level functionality.
Limelight also has an outstanding UI/UX that leads to higher adoption rates, increased collaboration and budget contribution for a superior and more comprehensive financial analysis.
2. Cube
Cube excels at eliminating rote data inputs and allows for automation to speed up your FP&A reporting. It also features strong customer service support and is built for mid-market companies.
Cube excels at:
Automating data consolidation

Creating shareable templates

Creating audit trails

Leveraging effective KPIs

Excel and Google sheets integration
How Cube FP&A Software Compares to Competitors
Cube is built to support mid-market companies that are ready to take advantage of automation opportunities to reduce their overall reporting time. While not the most robust FP&A software in terms of functionality, it is an effective tool for a variety of companies across several industries.
3. Datarails
A cloud-based solution that focuses on automation, Datarails is an effective FP&A platform. It is effective at integrating with your preexisting internal systems like your CRM, GL, ERP, and HR data.
Datarails excels at:
Performing real-time analysis of your data

Accessing variance analyses

Version histories only a click away

Revealing actionable insights via data
How Datarails FP&A Software Compares to Competitors
While Datarails does feature a lot of strong assets, it does have a few drawbacks. It's only compatible with PC and Excel and works on older tech meaning fewer integration opportunities. It also has a relatively steep learning curve. Aside from that, it is a very strong option for companies seeking high-end FP&A support.
4. Anaplan
Built more for large-scale transformation projects and larger enterprises, Anaplan is a solid FP&A solutions provider. It is built to focus on connectivity and collaboration across teams. It also features the Hyperblock calculation engine which is designed to ream out calculations at high speeds.
Anaplan excels at:
Speedy calculations involving large data sets

Automating updating downstream of these calculations

Featuring variety of customizable applications to supplement the platform

Servicing larger enterprises
How Anaplan FP&A Software Compares to Competitors
Anaplan features a lot of strong technology at the heart of its platform. That said, it is designed primarily to support larger businesses, and therefore is not ideal for smaller companies. It also features some of the drawbacks of a larger company (potentially impersonal customer service, for instance).
5. Workday Adaptive Planning
Another enterprise level FP&A software provider, Workday prides itself on its augmentation of modeling, planning, budgeting, and forecasting capabilities. The models it provides are among the most sophisticated in the industry.
Workday Adaptive Planning excels at:
Creating sophisticated models that can provide troves of data

Being intuitive for end users

Working seamlessly with a variety of data storage configurations (on-premise, hybrid, cloud)

Providing a variety of APIs that the user can then leverage
How Workday Adaptive Planning FP&A Software Compares to Competitors
Workday Adaptive Planning is a robust software provider that can help many businesses reduce their FP&A reporting burdens. It is relatively easy to use despite its wealth of features. It also is a great choice for heading FP&A transformations among larger enterprises.
6. Planful
Planful, as the name suggests, is hyper fixated on helping the end-user leverage in-depth planning capabilities. Both structured and dynamic planning are covered, as are data consolidation and reporting. It seeks to provide the data necessary to ensure that these plans can be crafted accurately and with purpose.
Planful excels at:
Managing your cash flows and tracking them

Supporting existing FP&A teams

Leveraging dynamic planning to inform long-term business decisions

Providing workforce planning insights
How Planful FP&A Software Compares to Competitors
Planful is ideal when used as an additional support for your existing FP&A teams. It is looking to target mid-market and larger companies, and is best suited to help these businesses get the most out of their extant data.
7. Vena
Vena is designed to maximize the collaboration capabilities across financial planning teams. It is able to synthesize efforts across said teams and support people, processes, and systems in the production of actionable data. It also features regulatory compliance reporting - a key asset for specific industries.
Vena excels at:
Are looking to improve their processes

Want to create fixed, long-term processes

Want to make use of highly customized services (requiring the resources to maintain them)

Providing template-driven standardization
How Vena FP&A Software Compares to Competitors
Vena is a lover of process and the honing of processes to make them more efficient and effective. That said, for businesses that aren't interested in creating more rigid processes that can have difficult scaling, more dynamic providers may be the better option. As such, Vena is better as a baseline software provider for businesses with smaller or less experienced FP&A teams.
8. Prophix
Prophix provides Corporate Performance Management (CPM) that can help generate higher profitability and control for risk via automation of repetitive FP&A tasks. It is ideal for those looking for support with budgeting, planning, consolidating data, and generating automatic reports.
Prophix excels at:
Taking slow and arduous processes and streamlining them

Automating your most frustrating and repetitive FP&A tasks

Detecting unusual transactions

Offering structured automation tools that are relatively easy to use
How Prophix FP&A Software Compares to Competitors
A lover of automation, Prophix is best for businesses that have a large number of repetitive and time-consuming tasks that can be better offloaded to a machine. That said, Prophix also offers strong data insights, but these insights are not as robust as those offered by the other listed FP&A software providers.
9. Oracle Hyperion Planning
Oracle Hyperion Planning is an FP&A solution that works to support enterprise-wide planning, budgeting, and forecasting across a variety of devices and interfaces. The FP&A software also helps with FP&A modeling and planning, allowing users to forecast across cost centers and lines of business that in turn speeds up decision making. It's worth noting that this FP&A solution is a component of Oracle's more comprehensive solution for Enterprise Business Planning.
Prophix excels at:
Functionality across devices and interfaces (desktop, mobile, Microsoft Office, etc.)
Developing accurate financial forecasts
Granting access to real-time data to empower decisions making
Aligning departments
How Oracle Hyperion Planning FP&A Software Compares to Competitors
Planning, budgeting, and forecasting are all supported by Oracle Hyperion Planning, with a particular focus on building accurate and reliable financial forecasts; data is leveraged directly from the sales and operations side of a business, so you can guarantee alignment across your enterprise. That said, you have to adopt the entire Oracle solution to get full functionality.
Limelight - the Best FP&A Software
While your options are plentiful, we believe that there is no better cloud FP&A software than Limelight.
If you want to leverage all of the above benefits and more, then you're ready for Limelight.
Our platform excels at ensuring all your budgeting, forecasting, planning, and analysis needs are addressed and completed faster - and more accurately - than ever. With our powerful platform backing your business, you can save thousands of hours and uncover hundreds of thousands in hidden costs, reduce budget reviews, and otherwise give you your time back.
Save money, get a more comprehensive picture of your business's financial health, plan and forecast easier - do it all with Limelight. Book a demo to see the platform in action and learn how it can help your business thrive.
More Information on FP&A Software
We have our list of the best FP&A software available on the market - and how to differentiate a top provider of financial planning and analysis services from a lesser alternative.
But there's a lot more to FP&A software than we've covered above. We're always happy to chat about how the right FP&A solution can revolutionize the way your team accomplishes its FP&A tasks - saving you time, providing deeper insights, ensuring data integrity across departments, etc.