With companies globally requesting that their employees work remotely during COVID-19, it's time to think about the tools your business needs to support productivity when working from home.
There is plenty that businesses can do to prepare for fewer disruptions to normal operations. Cloud technology ensures that collaborative work can happen in real-time, regardless of the distance between team members. By using the right technology and tools, you can empower your remote team to be as efficient as they would be in the office.
In this article, we offer business applications that can help teams set up a successful work-from-home environment. These platforms will allow your business to manage communication, finances, and project timelines much more effectively, keeping productivity up during COVID-19's impact.
Communication
Keeping teams connected, engaged, and well-informed is paramount for business operations. Having the right technology and a good communication process in place means your business can continue to run in any situation.
Particularly when working from home, having a team hub that enables both group chats and collaboration tools can allow teams to work together better. Here are some tools that we believe will help teams communicate effectively.
1. Zoom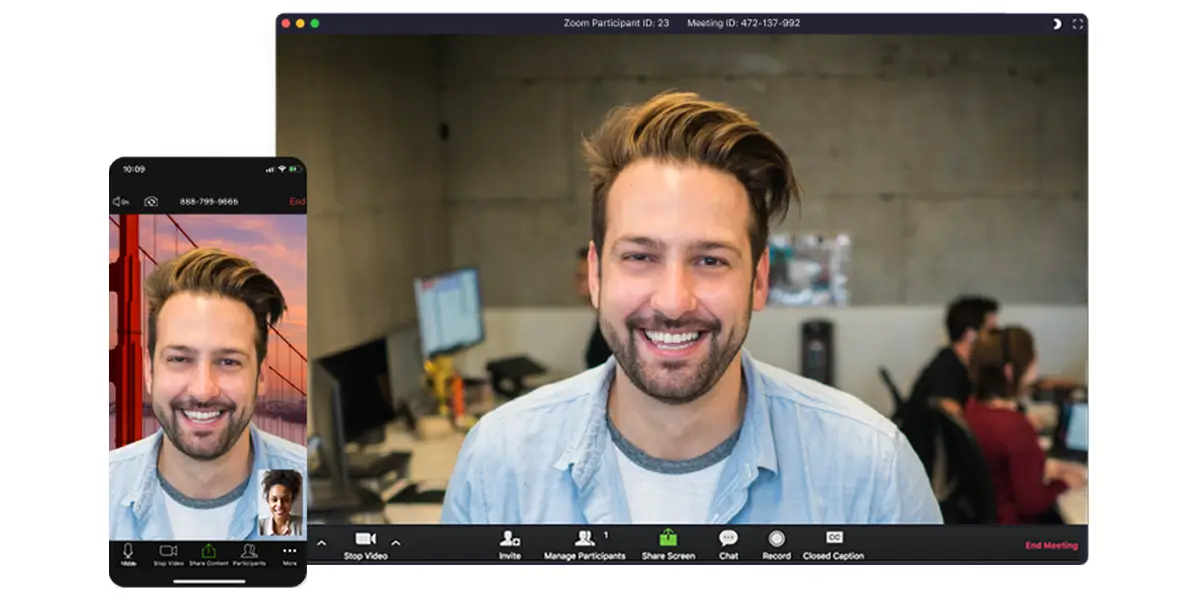 Zoom is a video and web conference call software that is easily accessible for teams around the world. For teams that regularly schedule conference calls, Zoom can be used to add a video element for higher engagement. Video allows your team and customers to pick up on visual cues while on a call.
As an example, Zoom can be used to show demos with prospects, work with clients on implementations, and lead customers through troubleshooting.
2. Slack
Slack is a communication tool where teams can quickly and easily connect. Different channels can be created for various departments and projects or for direct messaging. Slack has extended capabilities that let team members drag and drop files, pin documents and save messages for quick reference.
The tool is user-friendly and cuts down on the use of lengthy email threads. For example, team members can quickly discuss ideas for marketing campaigns, sending screenshots and videos and bouncing around ideas for each one.
Financial Management
For many finance teams, in particular, remote work can be challenging if they do not have the right systems in place. Finance teams must be able to stay on top of cash flow using accounting software that can be accessed from anywhere.
Finance teams may be asking themselves:
How can we continue to produce accurate and timely financial statements when working remotely?
How can we share sensitive financial information across different departments?
How do we keep on top of spending decisions across different offices and time zones?
Fortunately, FP&A software can tackle these problems and ensure your team's success.
3. Limelight
Limelight is a cloud corporate performance management (CPM) tool that centralizes financial data for accessible and accurate data. Having one centralized system allows teams to work with the same data and reduce errors.
Having your data stored in the cloud rather than individual devices means teams can access information securely. Your team members will be able to work from home comfortably and you can relax knowing that your operations do not have to come to a halt. While the software is user-friendly, Limelight's priority is to ensure that your data remains private and secure, with access only given to assigned users.
Project management
When working from home, project deliverables and timelines should be clearly communicated to avoid any delays. Getting your team on one platform helps everyone gain visibility into project progress. Here are some tools that can help manage projects and keep team members on track.
4. Microsoft Planner
Microsoft Planner is a planning tool available as part of Microsoft Office 365. With drag and drop features, email notifications on new tasks and a visual layout, Microsoft Planner helps teams gain an overview of processes and organize plans. You can easily create a new plan, assign tasks and update the status of projects on Microsoft Planner.
One aspect that sets Microsoft Planner apart from other tools is its integration with applications on Microsoft Office 365. Users can share files and add tasks to their calendars, thereby helping them keep up to date on all tasks. Even when working remotely, Microsoft Planner gives teams visibility and communication on their progress.
5. ProWorkflow
ProWorkflow is a web-based project management tool that helps plan, track and improve project deliverables. This tool can be used for tracking time on a project as well as for billing. All projects can be put onto ProWorkflow, reducing the amount of time spent gathering and comparing sheets from different project leads. Particularly when working from home, instead of having to email back and forth, everything can be accessed through ProWorkflow.
Work from Home Tools to Succeed from Anywhere
With the applications listed above, you can set your team up to work from anywhere. Cloud technology plays a big role in giving your team access to the information they need to carry on normal business operations. While there are adjustments to be made when working from home versus in the office, aspects such as communication, financial management, and project management can remain the same with the help of cloud technology. Beyond the impact of COVID-19, the tools you use can enable better business continuity in the future.
For more resources on transferring your business processes to the cloud, check out our whitepaper here.